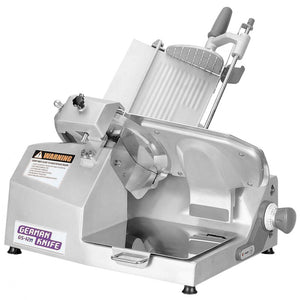 German Knife Heavy Duty Meat Slicer, Manual, 25"W
GS-12M
1/2 HP knife motor
Powerful ½ HP knife motor assures peak performance when slicing the toughest products.
Powerful gear driven knife motor
German Knife's heavy-duty gear drive system provides years of maintenance free reliability without down time. No belts to slip or break.
Half-permanently lubricated worm gears
Worm gears are made of Nytratron that is self-lubricated plastic made in Germany for high-speed equipment.
Stainless steel receiving plate
Stainless steel for food zone
Stainless steel food contact zone provides easy to clean surfaces and won't chip or peel.
Oil lubrication system on top and bottom slide shaft
Oil lubrication system on top and bottom slide shaft provides smooth sliding for the chute compared with competing brands.
Ergonomic style chute handle
Comfortable and stable ergonomic style grip on the chute handle provides easy glide manual operation.
Knife blade
Knife made in Germany holds the cutting edge longer, requires less sharpening, corrosion resistant and provides precise cuts.
Heavy stainless steel end weight
Heavy end weight lets you slice tiny pieces to the end and eliminates waste.
Operator side end weight rod
By placing the weight rod on the operator side of the chute, the product is held tighter for slicing.
Top mount knife sharpener
Safe knife cleaning
German Knife heavy duty slicers are equipped with a permanently attached knife ring guard and interlock knife cover.
Slice thickness adjustment
Precise thickness adjustment lets you slice from tissue thin to 1" thick.
Warning: This product can expose you to chemicals including Nickel and Chromium Hexavalent Compounds,
which are known to the State of California to cause cancer, birth defects, or other reproductive harm.
For more information, go to www.p65warnings.ca.gov.